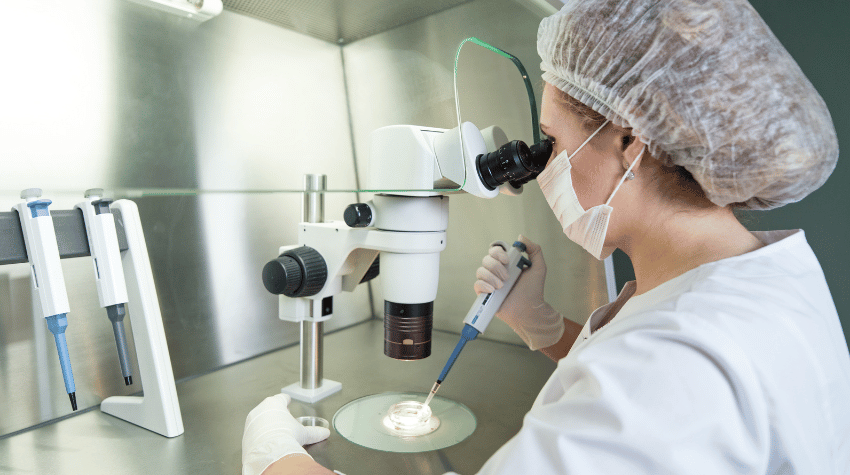 Embryo transfer is the last step of IVF treatment. We can say that IVF success heavily depends on this embryo transfer procedure by an expert embryologist in Mumbai. The doctors place a fertilized egg in the uterus of a woman. Further, the body continues the normal progression of pregnancy. Beyond papers, this phase is very emotional for the couple who have done it. This time is crucial as the couple waits for positive reports of pregnancy. It is very common to get anxious about the pregnancy after the embryo transfer process. This phase goes for 8-10 days. Not to mention that many couples go through an emotional rollercoaster in this time period. 
Experts will always tell you to keep calm & do your regular work. This is absolutely true but here we have something more for you. In this article, we will discuss a few things you must care for after Embryo Transfer. Read the whole article to know everything about it. 
Embryo Transfer Success Rate:
Not all Embryo Transfers succeed. So don't worry if it fails in the first attempt. But consult your doctor as soon as possible. Besides it, this process depends on several factors including- 
Age

Pregnancy History

Previous IVF Cycles

Causes of Infertility

Using Donor Eggs
In all the above factors, age plays a very important role. You can understand this by understanding the data below.
20-29 Years = 78% 

30-34 Years = 67%

35-39 Years = 49%

Over 40 Years = 29%
Conditions for Failed Embryo Transfer:
As we have already discussed, not all Embryo Transfers go positive. But the question is why? Age is a prime factor in the success & failure of Embryo Transfer. If you're under 35, your chances of getting pregnant are greater than 70%. However, there are several other factors that can harm you and you must take care of them.
   

Embryo Quality: 
Poor embryo quality can lead to a successful failure. The defective genes cause issues in implanting the embryo in the uterus. In the mid-process, the embryo dies inside. This causes miscarriage. 
Egg Quality:
Women start to face a decline in egg quality & quantity. This affects her ability to conceive. Using donor eggs is an alternative to it.  
   

Ovarian Response: 
The IVF procedure includes stimulating the eggs of a woman. Their body doesn't respond well to the drugs and therefore it affects the quality of the eggs. This happens mostly in older women who face this situation due to high Follicle-Stimulating Hormone (FSH). 
   

Chromosomes: 
Chromosome abnormalities are one of the major reasons for miscarriages & implantation failure. 
   

Lifestyle: 
IVF is highly dependent on the lifestyle you lead. Smoking, drinking, stress, and late-night habits cause higher failures than any other factor. A bad lifestyle also causes Male infertility. 
Symptoms after Embryo Transfer:
You will start to see symptoms within 10-15 days after the process. You will need to go for an hCG test to check the amount of hormone present in the blood. Don't use a pregnancy test kit at home as it can give you false positive reports as the kit only measures the amount of hCG to detect your pregnancy. 
Here are some symptoms that you will start witnessing after Embryo transfer within 12-15 days. If you're seeing any or some of these, be calm and happy. 
– Slight Bloating
– Fatigue
– Mood Swings
– Sore Breasts
– Light Spotting
– Vaginal Discharge
– Nausea
– Morning Sickness
– Missed Periods
– Frequent Desires to Urinate
Do's & don't after Embryo Transfer:
Implantation happens between days 1 to day 5 after the embryo transfer process. Make sure you have plenty of bed rest while leading your normal life. Listen to your body and don't let your mood fall. 

Strenuous Physical Activities can harm your embryo transfer procedure. Instead of having heavy physical activities, you can do lighter exercises such as walking, jogging, and cooking. 

One of the most important things to take care of is your diet. Start eating healthy before even the embryo transfer. It will help in your success. Start avoiding carbohydrates, sugar, and processed food. Say complete NO to alcohol & smoking. 

As a prestigious centre for IVF treatment in Mumbai, we suggest you not have sexual intercourse until you get your results. It can cause uterine contractions and interfere with the implantation process. 

Don't miss your prescribed medications at any cost. Missing them can cause you a heavy loss. Be actively involved with the medication under the consultation of an expert from an

embryologist clinic in India

. 

Drink a lot of healthy fluid as it promotes cell functioning, increasing the chances of successful implantation. 

Do what you love. Be stress-free and enjoy the time with your family and spouse. Everything will go right if you're happy from the inside. 

Say a big 'No' to pregnancy tests at home. It may show a false result. Wait for the hCG test scheduled by experts.  
Common Question People Ask:  
Should I care about my sleeping position? 
Your sleep position doesn't matter. Remember, your embryo is not going to fall due to gravity. Feel free to sleep in your comfortable way. 
   

What can I do to increase my success rate of implantation? 
Taking your medications on time & having a stress-free life are the only things you can actively do to get better results. However, read the blog again to get a clear idea. 
   

May I travel after Embryo Travel? 
Although the best embryologist in Mumbai suggests not going to hilly stations or doing heavy exercises, you may go for a trip. However, be sure of your comfort. 
   

Should I completely stop drinking? 
As per the experts, Yes! 
Conclusion:
Global IVF Fertility is one of the most renowned fertility centers with a number of services. Here you will get the best affordable surrogacy cost in Mumbai, female infertility treatment, IVF, the best embryologist center in India, and many other services for couples trying to become parents. 
This article discusses the dos and don'ts after an embryo transfer. Getting anxious after the process is very common. Therefore if you're feeling this way, we understand. However, you must keep yourself stress-free as this process takes time. Be calm after the process, enjoy this journey with your family & friends, and don't overthink. We wish you all the best.