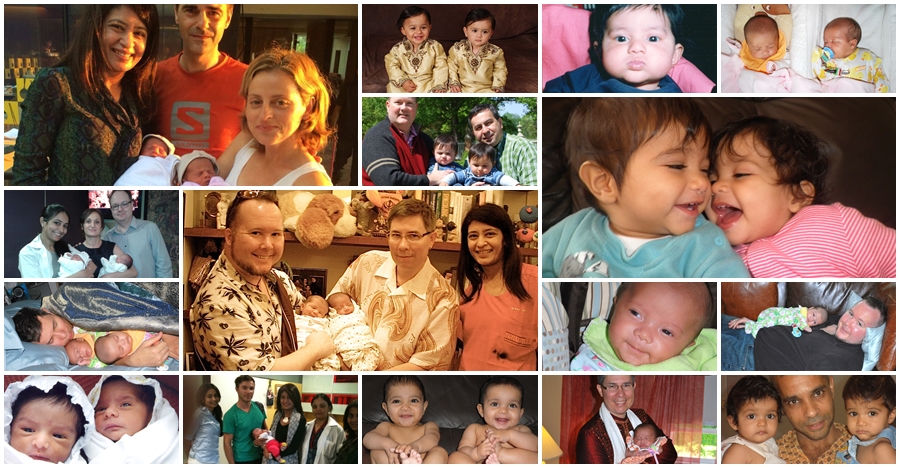 This picture is a collection of real babies by the Global Fertility Solution Team. More than 9,000 babies were already born through this team.
On this page, you'll find testimonials from Global Fertility Solution Waiting room Book.
We respect our patients' privacy – the names and pictures are not put online unless they specifically gave their approval.
If you imagine it, you can achieve it. If you dream it, you can become it.
William Arthur Ward –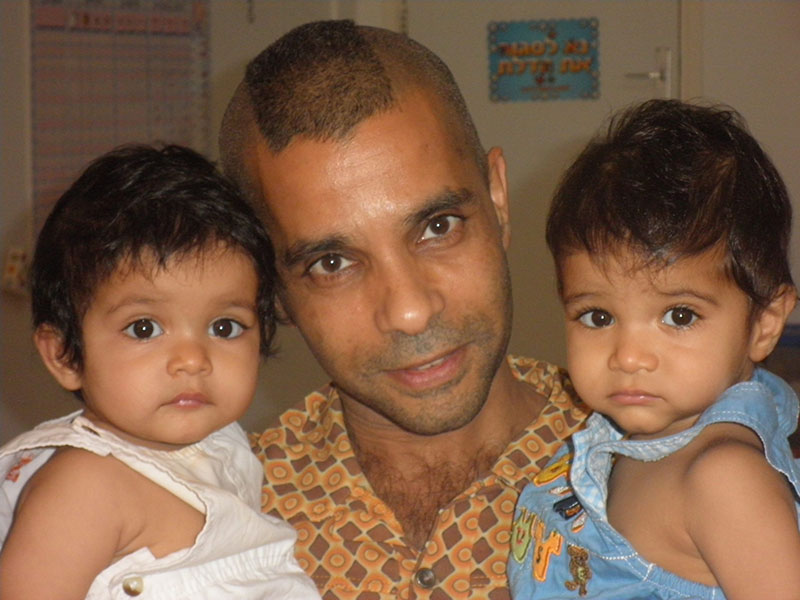 From the age of 20, I know I will become a parent, but time past faster than I felt and I was over 40 still a single man with no clue how I am making my biggest dream come true. And it happened a few years ago, I came to read in a local newspaper about a gay couple becoming parents to a child getting help by a surrogate.
It took me more than 2 years before I got the courage to send a mail to the clinic and on the second mail my angel on earth wrote me. It was Goral who later I understood is going to be the most meaningful person ever for me. She personally was the embryologist who got my embryos created through egg donation and she personally who selected and put back the perfect embryos in my surrogate's womb…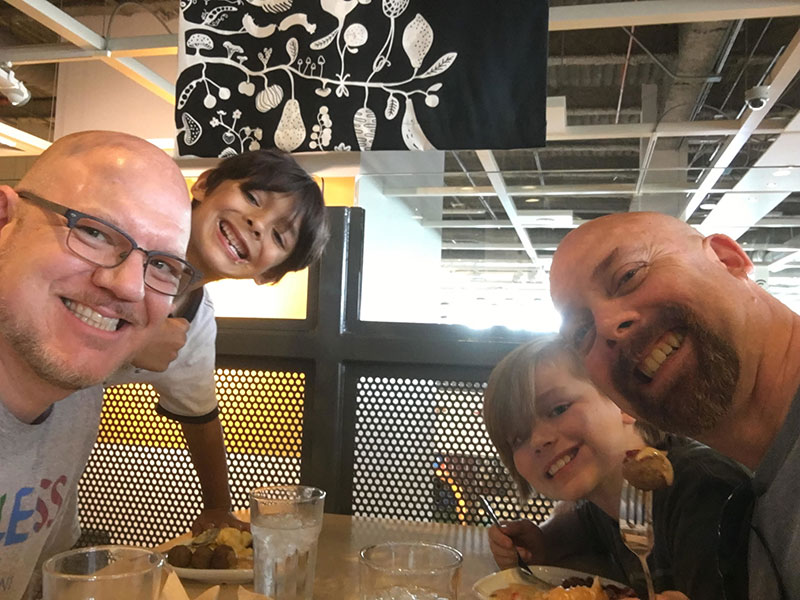 Ciaran|Kiran : The Ray of Sunshine for Matt & David Barclay
This sweet couple already were parents to a 4 year old boy, Aidan, and they were looking to have another child through the assistance of an Egg donor and Surrogacy. In those days the landscape for such a scenario was very promising, the laws were permissible for surrogacy for foreigners as well as single parents and same sex couples.  After doing a lot of research, this family had chosen to approach us – for all the family was looking for was another child to complete their beautiful family.
Testimonials from Global Fertility Solution Waiting Room Book
Over the years, we have collected a lot of 'testimonials" for our services. We have maintained a Suggestion Book in the Waiting room and here are a few 'testimonials' culled from the book!
My wife Janki delivered a baby girl last evening, as membranes ruptured the delivery had to be done at 36 weeks. The baby is just 2.25 kg but all is fine and hope things go well. Though we have not been in much correspondence over the last few months, never for a moment did we forget the contribution of Team Global Fertility Solution towards the happiness.
We are enjoying today. I will be grateful for this life of course, if not the next. For what you have given us we will never forget Team Global Fertility Solution, we can never forget the beautiful gift that you have given us. We will most definitely drop in with the baby during the course of the first year of her life.
I cannot just say thank you as that is too less.
Regards and best wishes for the Team,
We don't think we can do justice to our feelings with words. We are absolutely thrilled on being successful in conceiving a child. We owe it to the greatly skilled and extremely supportive team here at Global Fertility Solution. I sincerely believe that you guys are doing Yeoman service to society. I am all praise for the high standards of professionalism here. Keep it up!
Patient
We are lost of words to express the gratitude towards you for your care and devotion given to Asha during her pre and post pregnancy period.
Thanks to the sincere effort from you for Asha and Ansh , today they both are home…
We personally would like to take this opportunity to thank you for everything you did for us during the time of stress.
Patient B
As once Martin Luther King, Jr. said….
" Occasionally in life there are those moments of unutterable fulfillment which cannot be completely explained by those symbols called words. Their meanings can only be articulated by the inaudible language of the heart."
Today same way we are unable to express our gratitude in words…but surely enough this one comes from the heart… Thank you…
Patient C
We arrived at Global Fertility Solution feeling very apprehensive and uncertain. It felt as though we had traveled half way around the world without knowing what to expect of the clinic.
What can I say- reassuring, professional and encouraging is only a start.
The clinic is not exactly what I had been expecting- my UK experience was always based in large hospitals- The clinic is obviously smaller however it has more of a family feel and the facilities and cleanliness standards are at least as good.
Now we are heading back to the UK filled with hope- if we do not succeed we will definitely be back again…
Patient from UK
Since the very first time I have visited , I have never felt that I am meeting Doctor but always felt that he is our brother.
Infertility couple always needs psychological support from doctor and staff but we have got something more than this.
Best guidance, best treatment, personal attention and family feeling. What else we desire? No suggestions. Everything is just very nice as it should be.
We are sure that this is going to be best address in India for Infertility. We would like to say something more than Thank you to all of you. Global Fertility Solution group.
Patient D
To the entire staff at Global Fertility Solution:
We walked in here pretty suspicious and apprehensive of almost the entire medical fraternity. By the time this treatment has concluded, our perceptions have completely turned around: The attention, humaneness, openness and care devoted to us has been pretty overwhelming. Whatever happens from hereon, we are very glad to have been able to get an opportunity to go through this experience which, if nothing else, made us aware that dedication and commitment still exist in the world today. Keep up the good work!!! : )
Patient E
Dear Goral Gandhi
Thank you so much for your kind attention, tender care and advise. I really appreciate your time and patience.( esp. answering all my repetitive questions) I'm walking away today , more relaxed and happy , besides being very well informed about myself and my body. Will stay in touch. Hope to see you when you are in NJ. USA. Thanks so very much. A RARE COMBINATION OF KNOWLEDGE, CLARITY AND HUMANENESS.
Patient F
The first day I have visited to your clinic and got full psychological support and best advice from I hereby clarify that "Global Fertility Solution" staff team is really professional and full co-operative. We feel that we are at a perfect palace since all your staffs are excellent.
Thanks very much Goral and staff team. Wishing you all the best in future.
Mrs. SK
Dear Goral Gandhi and wonderful staff at Global Fertility Solution
We highly appreciate your kindness and concern towards us. You all are doing a wonderful job. We found everyone here are very friendly and helpful. So many thanks to Goral for all the encouragement and help. Wish you good luck! Hope to keep in touch.
Mr. & Mrs SP
Dear Sisters and staff,
You all are a perfect team enjoying your work and are so kind to your patients. Thank you for the close care and concern.
Mrs. KL
The staff has been wonderful and the clinic is very clean. Also Bilkees and Vilasini were very wonderful. I would like to thank all the staff who are very co-operative and understanding of the difficult times patients go thru.
Mrs. HG
To the entire staff of Global Fertility Solution
You all have been very patient with an overimpatient person like me, this is a small gesture of letting you all know, that no matter what God has planned for me, your warmth and gentle way of dealing with me has given me hope in trying again. Always be like this and I'm sure you all will get a special joy within when you see a patient cry with joy after she has a child.
Once again thanks for giving me the gift of Moksh, had made something impossible into a reality with just a few words to me" trust in me you will have this child" I did so and I'm glad. Thank you each one of you.
Mr. & Mrs. BS
Remarkable Hospital
The people are friendly. The most striking part was the honesty of the clinic which is a rarity in today's medical world. We sincerely wish all the luck to the clinic and the new friends we made. Best Wishes and god bless you.
Mrs. & Mr. BB
We wanted to fully endorse the work of Goral Gandhi, Scientific Director and Head Embryologist at Global Fertility Solution. We were desperate to become parents and had exhausted all our available options. Through a referral from a friend they pointed us to Goral's clinic where we were met with professionalism, excellent care, a first-class staff and excellent results. Goral guided us through the process from the very beginning until the delivery and post-care phase. Although there were moments of great anxiety on our part, they assured us at every step of the way of our concerns and worked with us patiently and sympathetically if there were any concerns. Through the incredible professionalism, we became pregnant after the first attempt and are now happy parents of two healthy and active twins. We can't recommend the work of Goral and her fine clinic enough.
John S (US)
Like many parents with few options for parenthood, we approached Global Fertility Solution and had an immediate consult with the excellent staff. We discussed all our options and decided to undergo Donor Egg IVF. The team came up with a plan and timeline for the next steps we were about to embark upon. We chose a wonderful egg donor from their database. At all times, we were treated with honesty, trust, and transparency with our treatment options and also financials. We decided to go with this clinic over many others and we are happy with our decision. We got results and achieved our dream of parenthood.
Kris (UK)