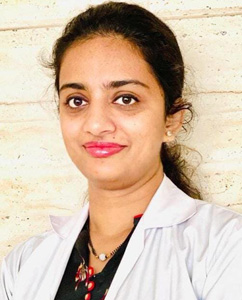 Dr. Soumya Shetty
Senior IVF & Fertility Specialist
MBBS, MS (OBG), Diploma in Reproductive Medicine (Germany)
Dr. Soumya has done her masters from Kasturba Medical College, Mangalore. She has received her formal training in the field of reproductive medicine from the International School of Medicine, Germany.  Prior to joining Global IVF and Fertility, she has worked at  Rotunda –
She has an outstanding academic record and excellent training in managing infertility.  Her efficiency in handling cases of infertility is based on ethical and evidence-based treatment. She has extensive experience in all infertility procedures like IUI, IVF, ICSI as well as advanced IVF protocols like IVF Lite (Mini IVF) and Segmented IVF (Freeze All approach). She has successfully handled large donor and surrogacy programs.
Her areas of keen interest are managing women with a low ovarian reserve and recurrent implantation failures. Dr. Soumya Shetty's interest and excellence in IVF Lite (Minimal stimulation IVF) resonate completely with Global IVF and Fertility vision and philosophy of making advanced maternal aged women pregnant with their own eggs instead of opting for donor eggs.
She has also actively participated in training other doctors in the field of IVF.
Connect With Me On:
info@globalivffertility.com