Welcome to the best infertility treatment Clinic in Mumbai
Our clients are our priority, we offer quality IVF services with a team of specialists.
More details about our services are below.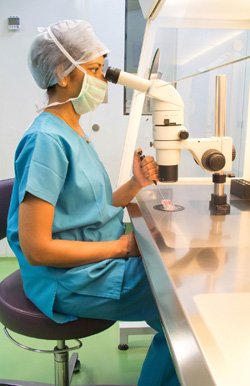 We know that facing infertility can be one of the most stressful situations you may encounter, emotionally, physically, and sometimes financially. At Global IVF & Fertility Center, the best IVF center in India, we work hand-in-hand with you to make every phase of the process — from diagnosis to treatment– as predictable and comfortable as possible. At our IVF centers in Mumbai, together we will map out a plan to determine the cause of your infertility and an appropriate course of action. Many problems can easily be corrected with medication or surgical procedures. For couples facing more difficult challenges, our ART program ranks amongst the best in the nation.
We know that when you visit an infertility clinic in Mumbai you may be worried about a procedure, a result, which is the best IVF clinic in Mumbai, or what your next step is. Our staff is here to answer all your questions, and offer support, from IVF cost in India to every infertility treatment in India, from male infertility treatment to all infertility treatment in India, we cover it all. We make any procedure as comfortable as possible at our infertility clinic in Mumbai. Our goal is to provide our patients with state-of-the-art medical care and an environment that fosters the best possible outcome.
While the information provided here is not a substitute for the professional medical advice provided by your physician, it is a place to start as you search for a solution to overcome the challenge of infertility. We encourage you to learn as much as you can, so you can make educated decisions about your options and find the support you need to get through this difficult and frustrating time in your life. Let us know how we can be of assistance.
Renowned infertility clinics in Mumbai
We are one of the leading infertility clinics in Mumbai that provides all fertility treatment in Mumbai under one roof. Get Full Advice on IVF treatment from the best Fertility Experts at infertility clinics in Mumbai, Book your Appointment now. If you are in search of the best IVF center, then Global IVF &  Fertility is the answer you seek.
We believe that infertility is more than just the inability to conceive a child; it can also be linked to psychological issues. As a result, we offer some counseling sessions to our patients in order to assist them to make the best decision possible throughout their complete parenting journey.
Goral Gandhi is a renowned embryologist and in collaboration with many renowned IVF doctors in Mumbai. Contact the best fertility center in Mumbai to get the best IVF treatment. Also if you are looking for male infertility treatment in Mumbai in different ways to improve sperm count, make an appointment with our fertility experts today.
Best IVF Centre in Mumbai
Are you in search of the best IVF centre in Mumbai, a fertility clinic in Mumbai that offers top world-class IVF treatment with low-cost IVF packages and the highest success rate? Then, Global IVF Clinic in Mumbai is here to help you out with our complete range of infertility treatments under one roof.
However, the entire parenthood journey is not smooth for everyone, there are many hurdles on this path. Some individuals and couples may need the help of an egg donor, surrogacy, or sperm donor. If you are one of them and the process is becoming out-and-out overwhelming for you then do not panic. We are here to help you out. Our competent medical staff, in-house gynecologists, IVF physicians, and infertility specialists at GIFC guarantee that you undergo treatment procedures so that your complete motherhood journey is smooth. To that purpose, we provide the most cost-effective treatment options, as well as some simple payment options.
Global infertility Clinic in Mumbai is the creation of Goral Gandhi. She has a career spanning this field for more than two decades. This IVF clinic in Mumbai is well-known for its patient-centric treatment approach incorporating a full spectrum of infertility diagnoses and cures.